I think I'm slightly obsessed with creating gorgeous little spaces for my kids to get lost in, and this whimsical reading nook is definitely one of my favs.
I would get lost inside fairytales when I was little. I loved reading + imagining + writing my own stories. This love of books – the flicking up of a paper corner between finger and thumb + gently turning the page to see how the story unfolds, and looking intently at all the pictures and words – started, for me, at a very young age.
And so this whimsical reading nook is just one little way that I can give my two the same chance to experience the magic of books. I just love the way the library book stand makes it easy for little ones to see and select from the books on offer, while the canopy allows them peace + cosiness + an area in which to escape.
So, I bet you're dying to know how to make a whimsical reading nook of your own? It's all absolutely easy peasey to do (of course)…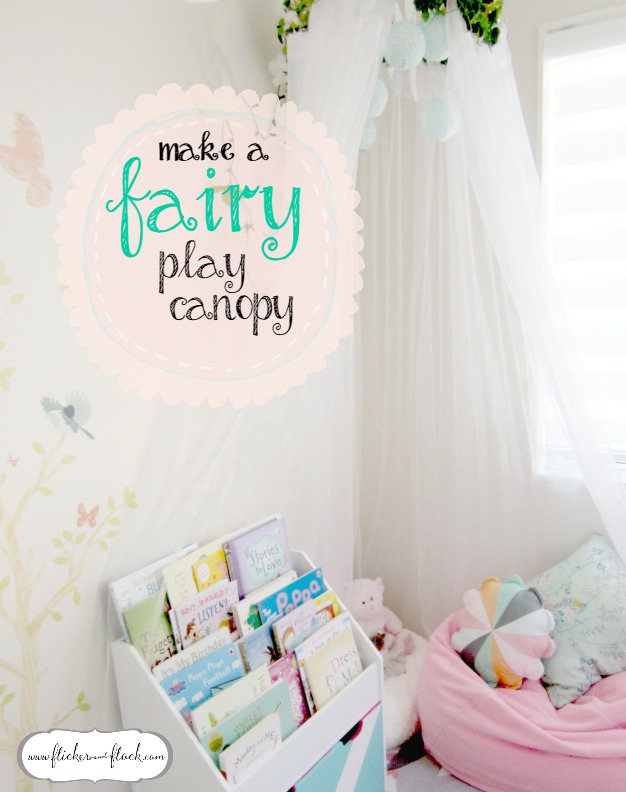 First, make yourself a fairy play canopy.
All it takes is three items + ten minutes of your time, and you'll have made the prettiest little canopy you've ever seen. I stumbled across this idea when I was looking for a play hut that would fit into my daughter's weirdly shaped bedroom, and I've gotta say, this dreamy canopy hideaway has worked out better than I ever could have imagined.
I followed these simple guidelines from the How Does She? site.
I purchased the embroidery hoop from Spotlight – but I'm sure you could also use your Kiwi No. 8 Wire mentality and come up with a hoop-alternative (like an old hula hoop or gardening wire).
The ribbon and sheer curtains were also from Spotlight. I found the perfect sheer curtains in pre-made packs at about $6 a pop. Think I bought 4 packs but actually only needed 3. It will depend on how big your hoop is and how much flowy material you'd like!
And with those three items combined, just moments later my dreamy, whimsical, fairy play canopy was complete!
I used a little screw hook, like this one, in the ceiling to hang the canopy off as found the 3M hooks were no match for eager little hands swishing + pulling + sitting on the tulle (eek!).
It honestly looked so pretty as it was in all it's white splendour, but I just couldn't resist adding a bit more whimsy and prettiness with artificial ivy vines + white flowers from Spotlight, mini mint lanterns from Typo and fairy lights from Mitre 10.
Then finish by assembling your little library.
The absolute easiest part of creating this whimsical reading nook, was this gorgeous little library stand, from (drumroll please…) The Warehouse!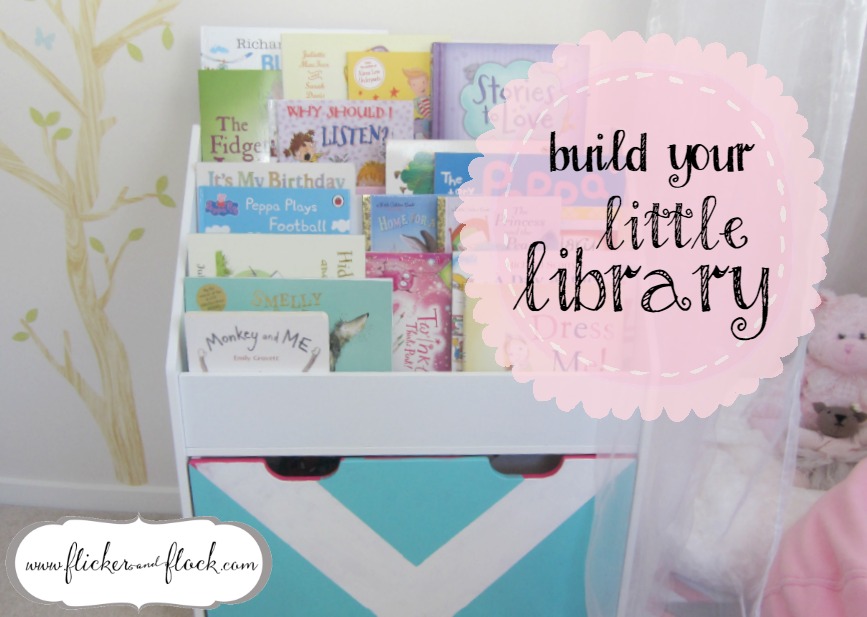 After hunting for months + months and lusting after images of clever people making book ledges out of Ikea spice racks and painted wooden dowels and god know what else, The Warehouse comes to the rescue again with this beautiful + very cost effective playroom addition. It comes in a flat pack but is oh-so-easy to assemble – just make sure you don't have any little helpers with you stealing screws and washers!
You can easily personalise the little library shelf too. I decided against the hot pink + white star design that was on the front of the bottom drawer, so simply painted over it using acrylic paint I had leftover from some other project. White paint to start with, then placed masking tape over the top to mark the edges of a big "V", then finished with turquoise before carefully removing the masking tape once the paint had dried to give me a perfect straight edge. I purposefully didn't bother making the paint texture even, as I love the distressed look and the odd streak of bright pink popping through.
The kids absolutely love this library stand. It's easy to move around (at the moment it is sitting next to their arts table but am sure it will be back by the fairy canopy in the next day!) and the large drawer at the bottom is perfect for craft bits + pieces or teddies or cosy cushions.
If your little ones are still at baby or toddler stage, I'd suggest using the hardware provided to affix the bookshelf to a wall to ensure it can't be pulled over accidentally too.
Enjoy! x
For ease of shopping or gathering, here's the full list of everything you need to make your whimsical reading nook:
1 x large embroidery hoop (or another hoop-like object with an opening that can be secured closed)
4-6 approx. tab top sheer curtains
3m approx. wide ribbon
1 x ceiling hook (or somewhere secure to tie your finished canopy on to)
Embellishments like vines, flowers, lanterns + lights
1 x Caboodle bookshelf with storage from The Warehouse
1 x Phillips screwdriver for bookshelf assembly
Acrylic paint + paintbrush + masking tape if you'd like to personalise the bookshelf