My daughter is a little magpie at heart; a lover of all things sparkly + shiny + glam. She also loves to organise, sort + rearrange; open, shut, lock, pull-out, stuff, empty + rearrange [again] any little space or cubby or drawer that she calls her own. What better way to celebrate these personality traits than to create a mini dressing room space just for her + her treasures.
The shape of her bedroom makes it a challenge to furnish at the best of times. One long wall is a complete curve and her built-in wardrobe takes up valuable floor space + adds to the strange wall angles. So I've created (in conjunction with little Miss, of course) a couple of pretty nooks that fit into the odd dimensions of her room, and collectively provide a whimsical + girly vibe that fits my daughter's personality to a tee.
In one nook there's the Fanciful Play Hut draped over the white picket fence + teddy bears picnic area (all DIY of course + will be revealed in a future Flicker & Flock post, so watch this space!); there's the relaxing reading area at the foot of the butterfly tree, and there's the mini dressing room sandwiched between her chest of drawers + wardrobe – which I'm sharing with you too today.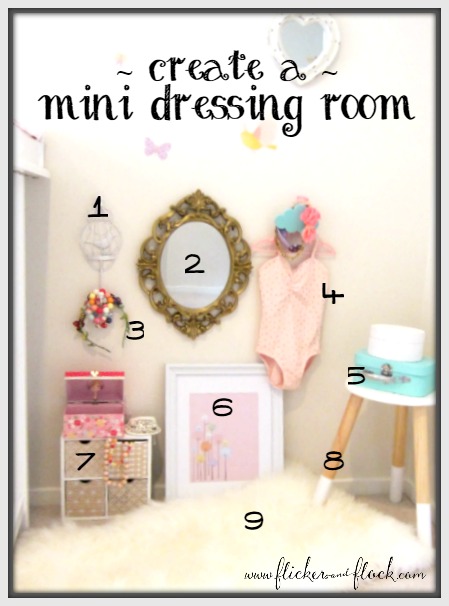 She just loves this little space. I often catch her rustling through her mini drawers looking for something in particular, and then emerging triumphantly with a few strings of beads around her neck. I think I would make a mummy-sized dressing room if I had the space – looks like so much fun!
If you too are thinking about injecting some magic into a corner in your child's room too, my advice is to simply go for it! It's amazing what you can conjure up with a little imagination, client consultation (in this case, my 2-year-old) + $50 in your back pocket as you go bargain hunting! I really only had a vague idea of what we could do with that little gap in the room, but once we got started the ideas flowed + it all came together. I was stoked to get the rug, hooks, mini drawers, mirror + stool for just shy of $50, then all of her bits + pieces provided the extra colour – so it was a pretty thrifty transformation.
I've provided my source list below if you're keen to know where I got what. Please feel free to share any kids room ideas you have with the Flock on my Facebook page!
[*Non-Disclaimer: Bought it all myself, love it all wholeheartedly, and had no input from these brands on this post so it's all 100% my honest opinion]. x