This super-easy Flamingo Party Balloon party will WOW your guests. Kids will love the novelty factor, and the adults will swoon over your DIY savvy + creativity. And you don't even have to confess that all you did was print, blow, stick + string!
You all went a little crazy over my Dinosaur Party Balloons. So I just had to share some more balloon action with you! These ones are even better than the dinos I reckon. Intrigued? Read on…
This hot pink Flamingo Party Balloon is a must-have for your next tropical-themed party. I'm currently planning an ice cream themed party for Miss-almost-3, and I can tell you that a whole flock of flamingos are DEFINITELY going to be there! They would also look right at home at a luau party or pool party. Or even a summer solstice or one with an animal theme. Let your imagination go crazy!
This post contains affiliate links. For more information, see my full policy here.
You know by now that I like to keep things simple. I especially like to keep my projects as straightforward as possible so that they're easy for you to recreate. My head may be a jumble of whacky ideas, but I only bring you the best! If you like straightforward DIY party projects with wow-factor too, then this Flamingo Party Balloon has your name written all over it.
What you need:
Pink balloon
Pink card
Home printer + scissors OR Silhouette Cameo (which is what I used)
Sellotape
Clear string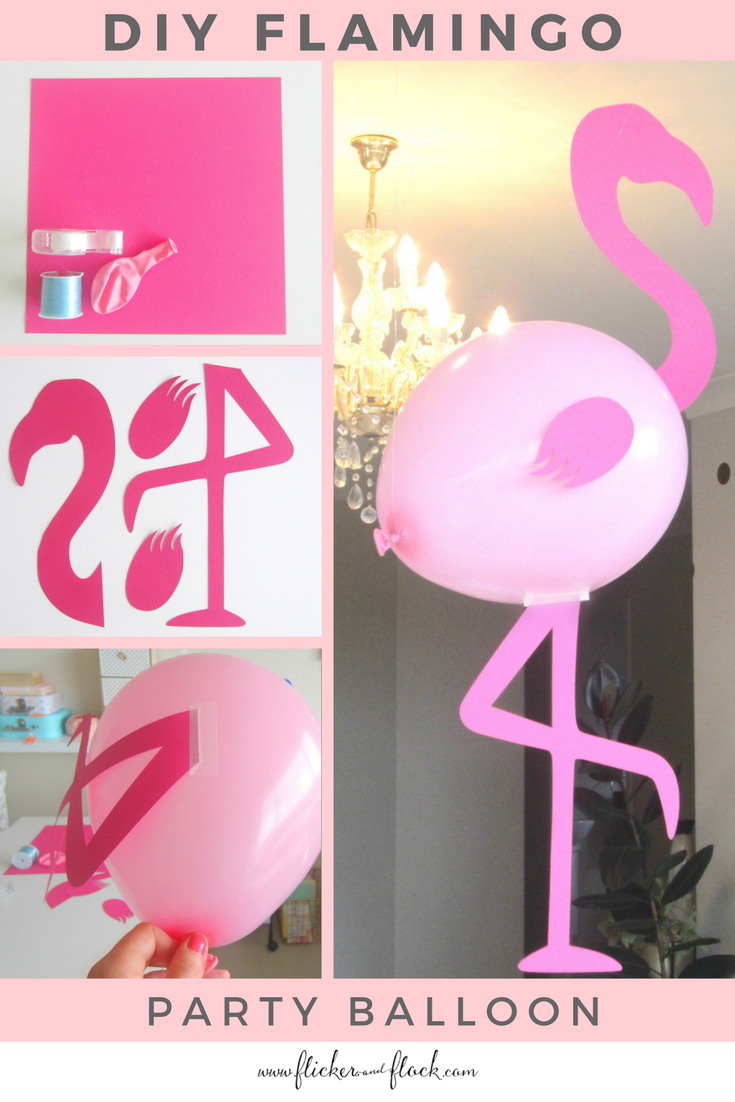 How to make them:
[Top tip: Steps 1 + 2/3 can be done in advance if you like. Steps 4 – 6 are best done the night before the party.]
Download templates: Enter your details at the end of this post to get your FREE templates. Check your email for the link to the PDF file.
IF USING A PRINTER: Print out onto coloured card + cut: You'll probably need A4 sized card depending on your printer specifications. The card doesn't have to be super thick, as it's the string that will actually keep your flamingo head + neck upright. Once the template has printed, use some sharp scissors to carefully cut out each shape. Repeat for as many as you need.
IF USING A SILHOUETTE: Trace + cut: If, like me, you have one of those magical Silhouette machines, you can simply feed your coloured card into the machine so it cuts the design for you. Use the templates I've provided you, and the tracing tool in your Silhouette software to create a compatible file. Then you can use a 12"x12" piece of card or 2 x A4 to feed into the machine for cutting. Repeat for as many as you need.
Blow up balloon/s: Once you have your cut out flamingo templates, you're ready to blow up your balloon/s + assemble. You're best to do this step the night before the party to avoid your flamingo balloons looking deflated and sad come party time! Allow about 30 minutes of time per balloon for assembly, although it will likely take less time than this.
Stick flamingo cut-outs to the balloon: Use the 'SEE THIS' picture on the template file to guide you on where to place each piece onto the balloon. Essentially you want the head to be on the widest top part of the balloon, and the tied mouth of the balloon to be in place of the flamingo tail. Just use you common sense + intuition though! Stick each cardboard piece using Sellotape on each side of the join. You can also use washi if you want your tape to be more colourful. Decoration optional: I kept my final flamingo balloons plain, but you could add eyes or even feathers for the tail if you like!
Hang up your party flamingo: Attach string to your completed balloon and hang! I'd suggest feeding a loop of string through the top of the flamingo head, and also around the tied mouth of the balloon – and adjust the string length so that your flamingo is even + looking how you want it to.
Easy peasey right?! Please don't hesitate to get in contact if you have any problems or feedback!
And just because I'm all about the flamingo at the moment, here's a couple of other on-theme party ideas that I just had to share… x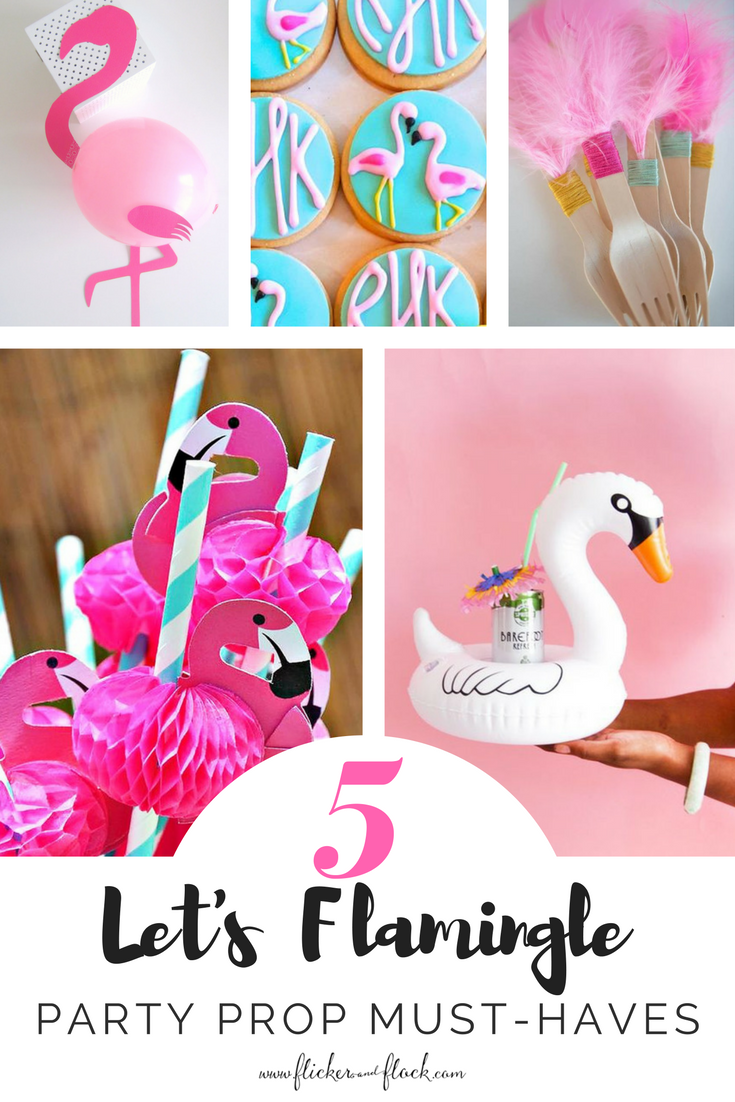 All of these flamingo ideas along with tons more party inspiration can be found on my Party Ideas board.
Flamingo credits must go to:
Top-middle: Flamingo Monogram Sugar Cookies, by MerciBakery.
Top – right: Feathered wooden utensils, seen on Kara's Party Ideas.
Bottom-left: Flamingo honeycomb straw, seen on Hostess with the Mostess.
Bottom-right: Inflatable drinks holder, pinned by Elise Betise.