Did I tell you I love kids parties?! I particularly love imaginative ideas that bring a sense of magic + wonderment to kids parties. Just like these DIY dinosaur balloons! Aren't they cool?!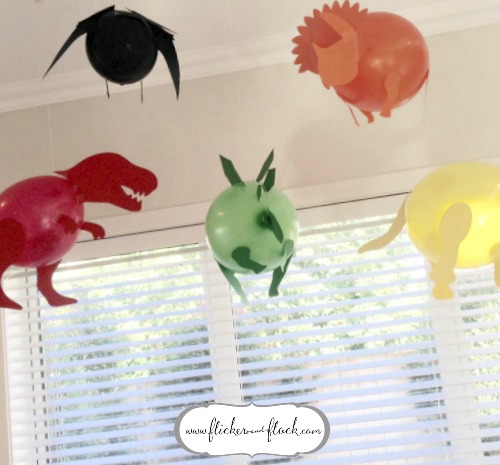 This particular cluster of balloon dinosaurs was whipped up by moi for my nephew's 3rd birthday. Mr 3's party was dinosaur themed – so these balloons were an obvious decoration choice. I think they'd work equally well with a jungle or monsters themed party though. You could even adapt them into animals for a zoo theme!
If you think my kids party planning tips sounded elaborate, my beautiful sister takes things to another level. She is a passionate + experienced event creator (amongst other incredible talents), and can always be relied upon to throw the most amazing Pin-worthy parties. Sure enough, she came across this dinosaur balloon idea on Pinterest (honestly the best source of kids party inspiration ever), and asked if I could make them for her. Of course I was only too happy to help!
When I sat down to start designing + cutting, I was surprised I couldn't find any existing templates for dinosaur balloons. They seem to be a popular party addition, so am sure many others have made them. Maybe I was just looking in the wrong place?! Anyway, I decided to share my FREE printable templates with you given I had gone to the effort of making them. Then you don't have to reinvent the wheel if you want to create these dinosaur balloons yourself!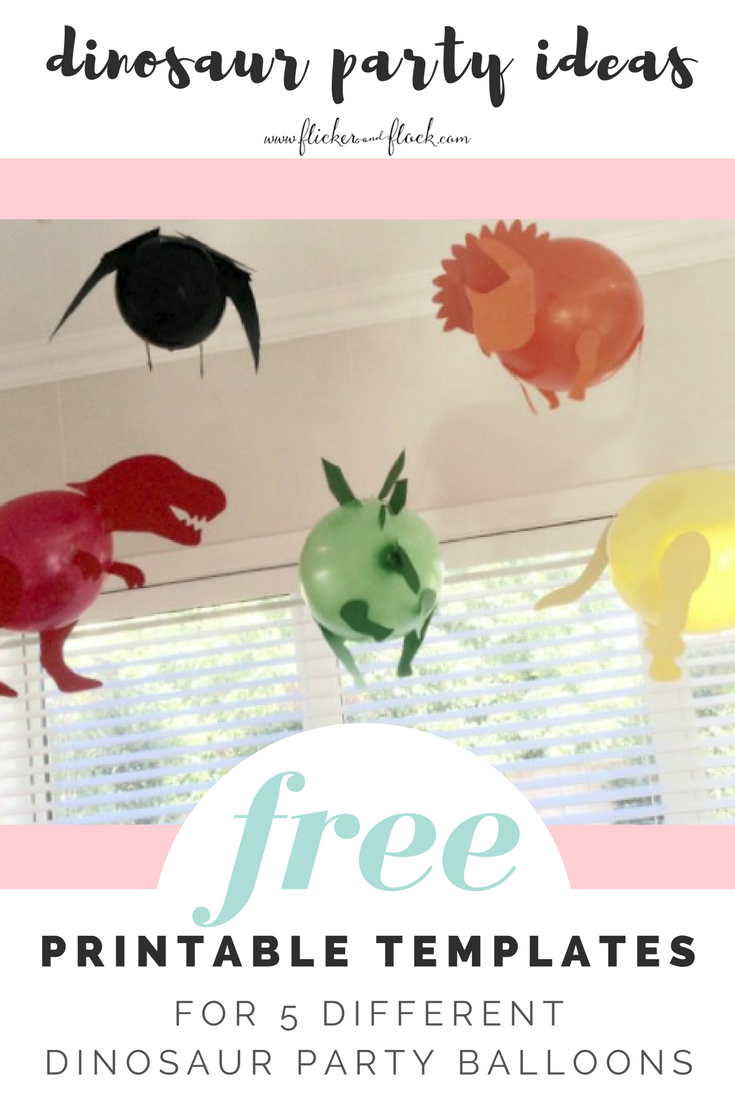 To download your templates, submit your details via the form at the end of this post. I'll email you the free dinosaur balloon templates straight away!
Here's what you need:
Printer (just a standard home printer is fine) OR a Silhouette cutting machine (honestly my best craft purchase ever – I looooooove it!)
Coloured card
Balloons in corresponding colours
Scissors
Sellotape
String (ideally clear so that it's invisible)
Instructions for assembly:
[Top tip: Steps 1 – 4 can be done well in advance of the party if you like. Steps 5 – 7 can be done the night before the party. Allow 1hr+ for steps 5 – 7, depending on how many balloons you're creating.]
Download templates: Enter your details at the end of this post to get your FREE templates. Check your email + download the PDF files. Refer to the 'READ THIS' document for clarity on how each dinosaur balloon needs to be assembled.
Print out each template onto coloured card: We found that 1 of each dinosaur (5 balloons in total) was enough decoration for our party. But print out as many as you'd like to. They'd make great takeaway gifts for party guests if you have extra! Use whatever coloured card you'd like for each dino. Here's what we chose if you want to do the same:

Red for the T-Rex
Green for the Stegosaurus
Yellow for the Diplodocus
Orange for the Triceratops
Black for the Pterodactyl

Cut out templates: Use scissors to cut out each piece of the dinosaur. Alternatively, if you have a Silhouette machine you can simply feed your coloured card into the machine so it cuts the design for you. This is what I did! I used the templates I've provided you, but made them slightly bigger to fit 12″x12″ card. By using the tracing tool in your Silhouette software, you should easily be able to adapt my templates to a cutting pattern.
Blow up balloons: Once you have all your cut out dino templates, you're ready to assemble. Given this step involves inflated balloons, I'd recommend doing this step no earlier than the night before the party. That way you avoid them looking deflated and sad come party time! When you're ready, blow up a balloon for each dinosaur you're creating + set aside.
Stick dinosaur cut-outs to the balloon: Use the 'READ THIS' document to help you place each dinosaur piece on to the corresponding balloon. Adhere each cardboard piece using Sellotape.
Hang up your completed dinosaur balloon: Once you're done, attach string to each balloon and hang! You may need to attach a couple of pieces of string depending on the dinosaur. For example, the Diplodocus will need one at the top of his head to keep it upright. Whereas the Pterodactyl will need one on each wing, and perhaps one on the head too. You decide what looks best for your space.
Let me know if you have any questions relating to your dinosaur balloon creations! I'm happy to help!
And just in case you were wondering – here's a couple of other pics I took on the day to further inspire your dinosaur party planning… x
This post contains affiliate links. For more information please refer to my disclosure policy here.