Did I tell you I love kids parties?! I particularly love imaginative ideas that bring a sense of magic + wonderment to kids parties. Just like these DIY dinosaur balloons! Aren't they cool?!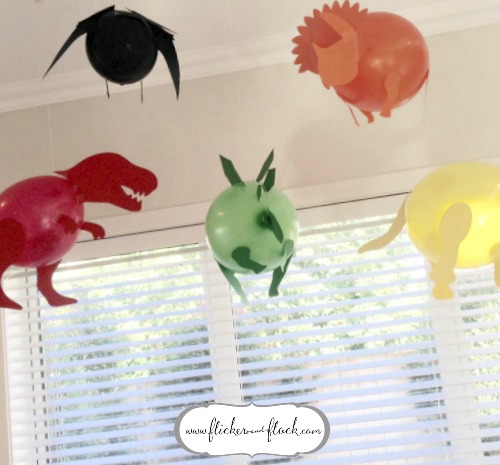 This particular cluster of balloon dinosaurs was whipped up by moi for my nephew's 3rd birthday. Mr 3's party was dinosaur themed – so these balloons were an obvious decoration choice. I think they'd work equally well with a jungle or monsters themed party though. You could even adapt them into animals for a zoo theme!
If you think my kids party planning tips sounded elaborate, my beautiful sister takes things to another level. She is a passionate + experienced event creator (amongst other incredible talents), and can always be relied upon to throw the most amazing Pin-worthy parties. Sure enough, she came across this dinosaur balloon idea on Pinterest (honestly the best source of kids party inspiration ever), and asked if I could make them for her. Of course I was only too happy to help!
When I sat down to start designing + cutting, I was surprised I couldn't find any existing templates for dinosaur balloons. They seem to be a popular party addition, so am sure many others have made them. Maybe I was just looking in the wrong place?! Anyway, I decided to share my FREE printable templates with you given I had gone to the effort of making them. Then you don't have to reinvent the wheel if you want to create these dinosaur balloons yourself!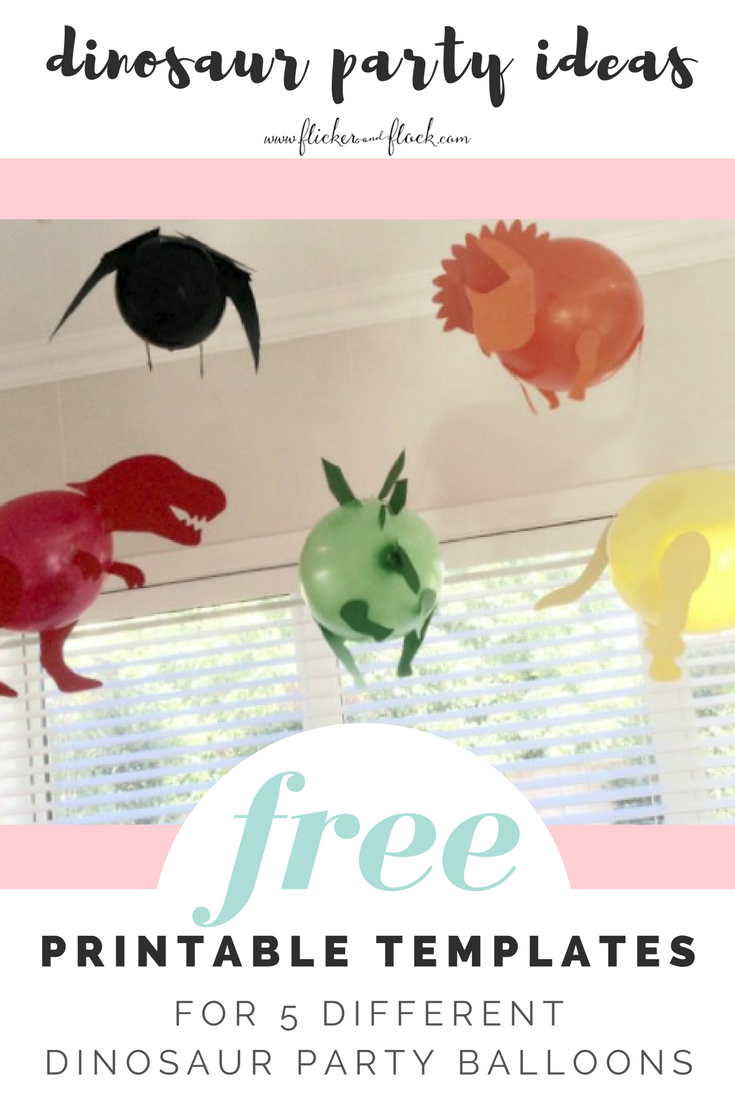 To download your templates, submit your details via the form at the end of this post. I'll email you the free dinosaur balloon templates straight away!
Here's what you need:
Printer (just a standard home printer is fine) OR a Silhouette cutting machine (honestly my best craft purchase ever – I looooooove it!)
Coloured card
Balloons in corresponding colours
Scissors
Sellotape
String (ideally clear so that it's invisible)
Instructions for assembly:
[Top tip: Steps 1 – 4 can be done well in advance of the party if you like. Steps 5 – 7 can be done the night before the party. Allow 1hr+ for steps 5 – 7, depending on how many balloons you're creating.]
Download templates: Enter your details at the end of this post to get your FREE templates. Check your email + download the PDF files. Refer to the 'READ THIS' document for clarity on how each dinosaur balloon needs to be assembled. **UPDATE** I found a way to convert the PDF files to PNG, so this format is also available to download for those of you using Cricut + Silhouette cutting machines, yay!
Print out each template onto coloured card: We found that 1 of each dinosaur (5 balloons in total) was enough decoration for our party. But print out as many as you'd like to. They'd make great takeaway gifts for party guests if you have extra! Use whatever coloured card you'd like for each dino. Here's what we chose if you want to do the same:

Red for the T-Rex
Green for the Stegosaurus
Yellow for the Diplodocus
Orange for the Triceratops
Black for the Pterodactyl

Cut out templates: Use scissors to cut out each piece of the dinosaur. Alternatively, if you have a Silhouette machine you can simply feed your coloured card into the machine so it cuts the design for you. This is what I did! I used the templates I've provided you, but made them slightly bigger to fit 12″x12″ card. By using the tracing tool in your Silhouette software, you should easily be able to adapt my templates to a cutting pattern.
Blow up balloons: Once you have all your cut out dino templates, you're ready to assemble. Given this step involves inflated balloons, I'd recommend doing this step no earlier than the night before the party. That way you avoid them looking deflated and sad come party time! When you're ready, blow up a balloon for each dinosaur you're creating + set aside.
Stick dinosaur cut-outs to the balloon: Use the 'READ THIS' document to help you place each dinosaur piece on to the corresponding balloon. Adhere each cardboard piece using Sellotape.
Hang up your completed dinosaur balloon: Once you're done, attach string to each balloon and hang! You may need to attach a couple of pieces of string depending on the dinosaur. For example, the Diplodocus will need one at the top of his head to keep it upright. Whereas the Pterodactyl will need one on each wing, and perhaps one on the head too. You decide what looks best for your space.
**UPDATE** I've added an FAQ section at the very end of this post (after the next lot of pictures) with answers to the questions I get asked most often. So if you have any further questions you might want to check there first!
And just in case you were wondering – here's a couple of other pics I took on the day to further inspire your dinosaur party planning… x
Dinosaur Balloon FAQs – here are the answers to the questions I get asked most often!
Q – Can you send me the dinosaur balloon templates?
A – Yes! All you need to do is enter your name + email address into the contact form. You'll find this just after the step-by-step instructions above. So, you put your name in the box under "Your Name (required)" and your email address in the box under "Your Email (required). Then you press the red square button that says "send" and you're done! A link to the PDF files will be immediately send to the email address you provided. You can email me or message directly if this doesn't work – but be aware it may take some time for me to respond as my day job being Super Mum is often incredibly demanding!! Same goes if you enter your details via the comments section. The contact form is definitely your best bet!
Q – The link to the PDF files you sent me isn't working.
A – The link that is emailed to you takes you to a web page with all the documents there ready to download. I'm not particularly tech-savvy, but as the link is a simple website link connected to Flicker & Flock, it may be an issue with pop-up settings or something similar on your computer when you click straight from the email. Try copying and pasting the link into your internet browser or opening it in a different browser, i.e. if you're using Microsoft Edge you could try Chrome.
Q – I'm at the Download Page, but I'm having trouble downloading the actual files. What do I do?
A – The download won't start automatically, you need to click into + download each of the relevant documents. On the download page you'll see a number of links / headings in red, these are the links to each of the files. When you click on them, this should automatically open up the document which you can then save onto your computer. Alternatively you can right-click on the link and choose "save target as".
Q – Are the templates available in svg or other formats? How do I use this with my cutting machine?
A – YES!!!!!! I get asked this question ALL the time from my fellow Cricut + Silhouette crafters, so I am so happy to report that I figured out a way to help you all! The files are now available in PNG format, which I hope will save you a ton of time. Special note to the Silhouetters – if you upload the file when you're in the Silhouette design software, you can then use the "trace" tool to tell your machine where you want the cut lines to be. More information on this tool can be found here.
Q – I'm making these balloons to hang in a public space – like a library or school classroom – is this ok?
A – Absolutely! I love seeing photos and hearing from readers who have made these balloons for their class, and created a magical experience for their students. If you're using my templates for décor at a corporate event and/or other non-educational event, please get in touch with me at hello@flickerandflock.com for permission.
Q – Can I on-sell these templates and/or made-up balloons, for example at a craft fair or for an event company?
A – The simple answer to this is no; I don't make any money from these templates and neither should you! I think my readers love and appreciate they can access these templates for free to make a child's party more special. I want to keep it that way! There is a clear copyright written on each file, which I share in good faith that they won't be inappropriately used. Please feel free to get in touch with me at hello@flickerandflock.com if you'd like to check on proper usage and/or if you'd like to discuss an exception to this rule. Likewise if you think someone is inappropriately using my designs for financial gain.
Q – Can I include your templates on my own website or blog?
As always I would love it if you share the link back to my site, so that as many people as possible can enjoy making these balloons for themselves! Just ensure you're providing the link back to Flicker & Flock so that I can keep track of downloads – don't post the template files yourself on your own site. Thank you! x
This post contains affiliate links. For more information please refer to my disclosure policy here.