I absolutely love entertaining friends + family, and while we still manage the odd dinner party + summer BBQ, kids parties are the ones I seem to specialise in these days! Both of my children's birthdays fall within the very hectic Christmas season, so I've found the only way I can pull off a stress-free, fun + very special party for them, is to follow my tried + tested kids party plan (shared for your party planning pleasure below!).
I'm not ashamed to admit that I LOVE kids birthday parties. I loved them as a child + I love them even more as an adult, as I now get to plan all the fun + see the delight on the faces of my own children, and perhaps even have a glass of wine with my fairy bread and sausage roll on party day!
Through trial + error + years of experience, I've now honed my party planning "to dos" into an easy checklist that I simply reuse each time. It means I'm not reinventing the wheel each time + I don't need to worry about forgetting something vital as it's all written down in my plan. It also affords me plenty of time to do a little bit here and there so I avoid the last minute rush. So whether it's traditional or totally OTT, here's my kids party plan to help you plan your next memorable kids party. I know that not everyone is as obsessed with lists as much as I am, but I do hope you find this checklist somewhat useful!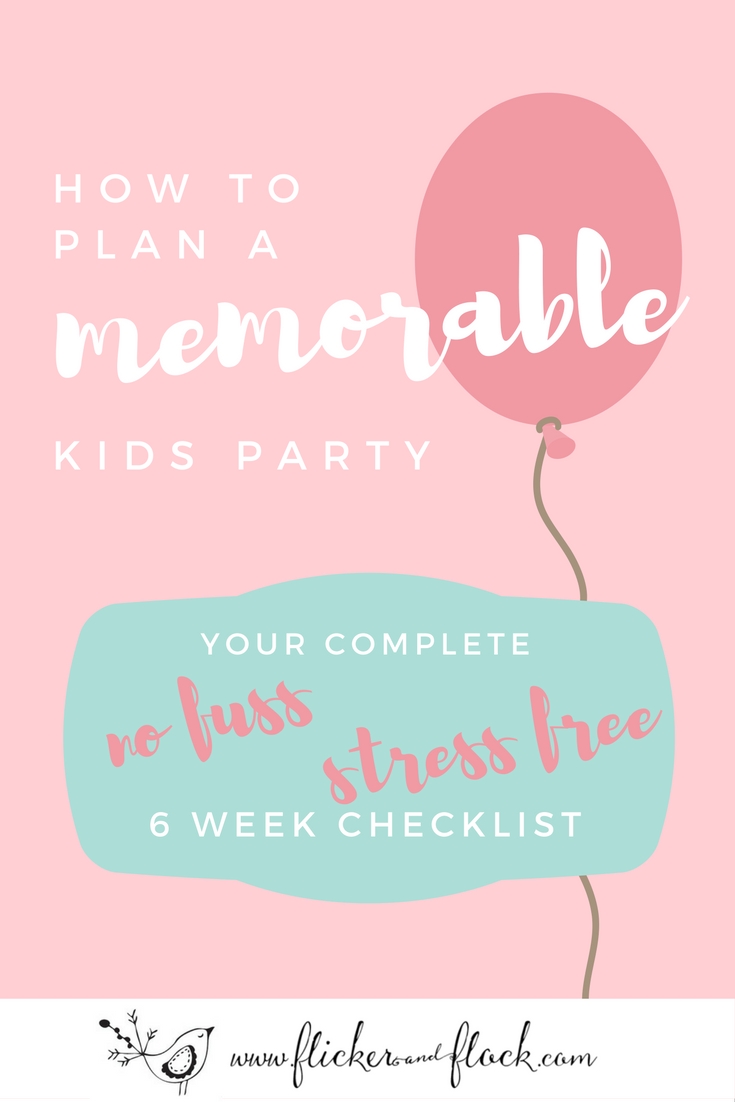 6 weeks prior
Decide on a party theme; once you have the theme sorted, then all of your other choices should flow easily from here. | Themes don't have to be complicated. It could simply be "pink" or "animals" or "sweets", through to "Little Man" with moustaches + bowties or "Pretty Pastel Picnic" with white wicker picnic baskets + tableware in various shades of pastel peach + mint. | When deciding on a theme, my first port of call is always my birthday child as it is their special day after all! Pretty much whatever ideas they have, goes. For example, I created a "Bunny + Baby" tea party for my 2-year-old daughter, as at the time she simply went everywhere with these two favourite toys. And my son has already requested a Darth Vader birthday cake for his next birthday (which isn't until December – think he has my super-organised gene!) , so am guessing his party will be all things Star Wars. | My go-to source for party themes + ideas is Pinterest, and I've collated some of my favourite kids party ideas for you to use as a starting point here.
Book your party venue (if not having it at home). | Until now I've found it easier to have the kids parties at home, but as they get older + messier I can definitely see the appeal of going to the local pool for a pool party or a community hall by a playground or with the fairies at The Fairy Shop!
Book any hire items or entertainers needed. | Maybe you need a little table + chairs for the kids to sit + eat, or bubble machines, candy floss makers, cake tins, ride on toys or magicians… | Kids Party Hire in Auckland is amazing if you need a few extras for the party day. There's a great selection to choose from online, at affordable hire rates + everything is always really clean and in great condition.
5 weeks prior
Choose or design party invitations. | I'm old school, and love sending out invitations in the post. Just because it's exciting getting mail that isn't bills, don't you think?! I've always used Vistaprint for our invites as they have heaps of really pretty templates to choose from + are very cost effective. It's also easy to upload your own design, and you can choose between paper or card or even a magnet invitation that can go straight on the fridge, so there's no chance of your party guests forgetting! | You can of course simply write out the party details on a pretty piece of paper + then post. | Or send a personalised text to your guests or create a Facebook event for the party or send an email around with all the party info. | If you want to send some colour as well as text, it's really easy (and free!) to design gorgeous email invites – using provided templates or simply your own imagination – with Canva or Paperless Post. | If you really want to splurge on invites + are prepared to wait for them to be printed and sent from the U.S., I've always loved the designs at Minted too.
Finalise your guest list. | If you're anything like us, the guest list pretty much consists of the same family + friends each year, so any adjustments are pretty quick + easy to make. | Make sure the contact details you have for them is up-to-date so that you can send them the party invite. | Check with your birthday child + maybe even their teacher if you need to double check you haven't left any new friends out.
4 weeks prior
Send out party invitations. | This may seem like a long way in advance for a kids party, but we're all so busy these days you'd be surprised how quickly the year's calendar fills up! This also allows plenty of time for guests to RSVP.
Start making or shopping for decorations. | On reflection, this is probably only a checklist point for me as I love making bunting + pom poms etc., and even managed to make a toy picnic area for my daughter's last party complete with a white picket fence + fake lawn. So, if you're like me, start making your decorations early so you can get a little bit done here and there and avoid a last minute rush. | You can also pick up sooooo many amazing party decorations for next-to-nothing from places like KMart, Look Sharp Store and your local dollar or bargain store. | Remember once the party's over, make sure that you pack away + store anything that can be reused again. I have a big plastic "party box" in our laundry cupboard that I "shop" from first before getting any new things. Quite often I discover I already have everything I need. Even big paper pom poms can be squished into boxes and then fluffed up for use again, which ultimately saves you $$.
3 – 2 weeks prior
Plan or order the cake. | Baking does not come naturally for me, so I find I have to give myself time to find a cake that even I can pull off – this usually consists of a standard circle or square shape, which is then iced or decorated in an interesting-yet-straightforward way. | You could also pick up a plain sponge or chocolate cake from the supermarket, and ice + decorate it yourself for a homemade look – simple chocolate icing with lollies on top + candles is always a winning combo. | Or if your budget allows, you could opt for a beautiful creation from a professional cake maker.
Plan party menu + start writing your grocery shopping list. | Keep it simple! Sushi platters, savouries, chips, fruit slices + jelly are always hits and so easy to organise. You don't want to be fluffing around with anything complicated on the day, and the traditional party food favourites are always the easiest + most loved fare anyway.
Shop for + pack treat bags for party guests to take home. | This is definitely not an essential part of a kids party, but it was honestly one of my favourite things when I was little so am keeping the tradition alive!
Plan party games. | My 2 have been too young for any games thus far, but am looking forward to cracking out pass-the-parcel and pin-the-tail in parties to come.
1 week prior
Follow up any guests yet to RSVP.
Shop for + order party food.
Day before
Bake + ice birthday cake. | If you are baking your own, do not attempt to do this on the day of the party! I've found that it's so much harder to do if you're stressed and rushed. Take your time with it the day before, and your cake will still be delicious + fresh the next day, promise!
Start putting up decorations. | Decorations like bunting, pom poms, lanterns, lights, streamers, tassels, garlands etc. can all be put up the day before, which will save you time on party day.
Day of party
Final decorations up. | This usually consists of balloons on the letterbox + anything I didn't have time to do the day before.
Set up the party table. | This could be a little table and chairs where the kids are going to sit to eat, or a spread on your dining table for guests to help themselves.
Prepare party food. | If you're running out of time, you can leave this step till last as I find it's totally acceptable to be slicing + popping things in the oven even after guests have arrived if need be.
Relax + enjoy + have fun with your special party boy or girl! The most important step of all.
One last suggestion, leave your camera out + ask guests to take party picks if they'd like. I'm always too busy enjoying the party that I completely forget to take pictures otherwise! And it is nice to have photos of all the fun for you to look back on.
Anything I've missed? Would love to hear what you have planning, and if you have any other amazing party tips for me too! x