I'm about to show you how to easily transform a humble piece of paper into a love-inducing, smile-creating, happiness-producing gift.
It will promote you to Hero status + transform a special someone's day into an amazing one. It's the #1 centrepiece on a Mother's Day breakfast tray. It's an extremely cost-effective gift that delivers money-can't-buy results, and can be held in the palm of your hand.
Sound too good to be true?! Well, I present to you the amazing, the wonderful – Handmade Card – which is all these things and more.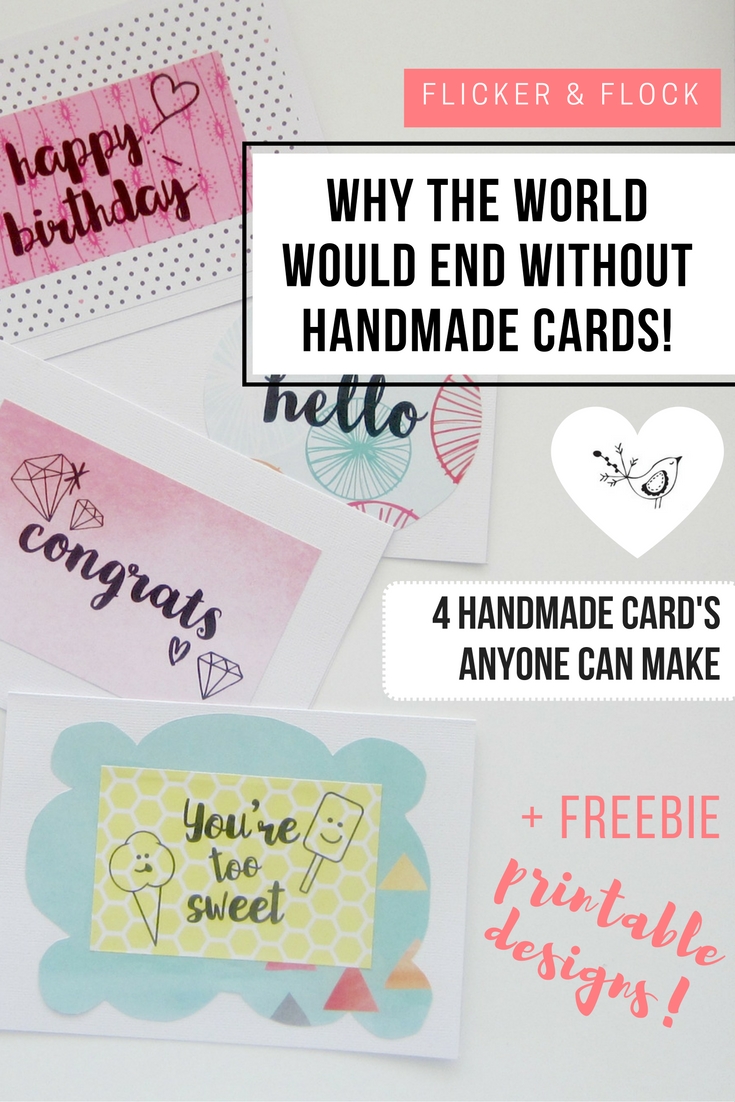 To anyone that's been following me for a while, it should come as no surprise that I LOVE anything handmade. I love any excuse to create something for my friends + family, and I absolutely love receiving "made with love" goodies.
You can never go wrong with handmade; it will always be appreciated and cherished.
But we live in a world where people tweet instead of talk, or 'like' instead of hug. So many of our relationships have been digitised, and so much of what we mean to say is being lost inside our expressionless emails or Facebook comments.
It may sound dramatic, but I think the Handmade Card is wanted + needed in this world more than ever before. It's old school, but has stood the test of time for good reason. From inception to exchange, every fibre of the Handmade Card reinforces how much one person loves another. It's as far from Twittering as you can get.
I know we're all busy. We have a million things to remember and do in any given day. It's so much quicker to send a text to your sister for her birthday than meet up for lunch, right? And it's so much easier to buy a xmas card than make one for your best friend. But no one can deny that a handmade card means so much more. It's different, it's unique, and totally created for your recipient. Don't be fooled into thinking it needs to be perfect either. Because it's handmade, it needn't be – in fact, the rough edges give it charm and will make the lucky person receiving it smile that much more.
So I what I want to say to you is this: It doesn't matter if you don't have an artistic fibre in your body + don't even know where to begin. I'm telling you that ANYONE can create + give a handmade card, especially you! Start here, I will help you!
My gift to you, for you to gift to others, is four freebie card designs that can be handmade in 3 steps without any artistic ability required. I have created four designs that you can easily mix + match, along with the step-by-step tutorial. All you need is to add the two secret ingredients – thought + love. Intangible, unique and coveted, these elements are what make the Handmade Card so special for the card's recipient. These are the reasons why I've handmade cards ever since I could scribble, and why I'm totally hooked.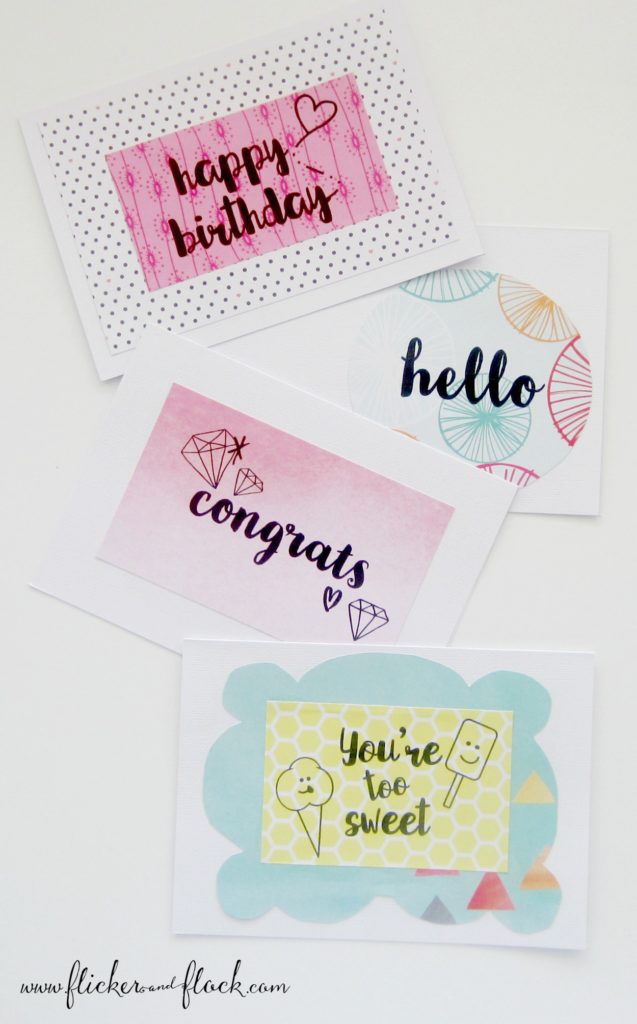 Let's get started! What you need:
Any type of home or office printer
Pretty paper
A blank greeting card (you can find these in craft or stationery stores, or you can just fold your own)
Scissors
Glue stick
Note: You'll be able to get all four card designs emailed to you via the download form at the end of this email. The designs include a "Happy Birthday" with love heart balloon, "Congrats" with stylised diamonds, a "You're Too Sweet" with cute little icecreams, and a generic "Hello" within a circle [cue Adele music…].
Step 1:
Choose some pretty paper (+ cut it to fit your printer if need be), then print your chosen design onto your paper.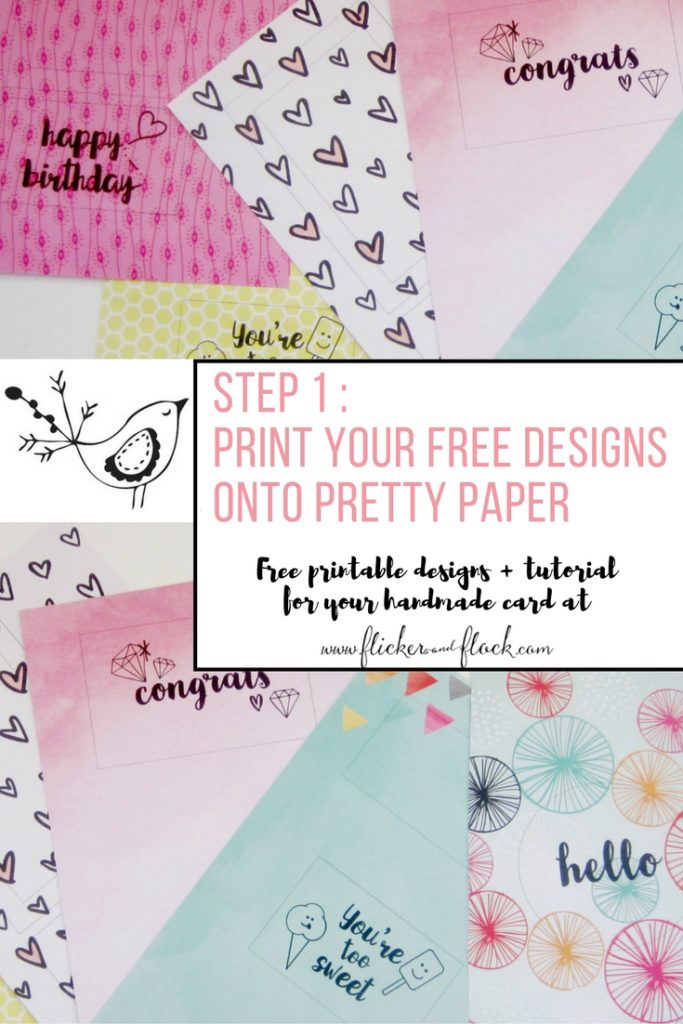 Step 2:
Use a paper cutter or scissors to cut out your chosen design for your handmade card. A boxed border has been included for the "Happy Birthday" card +  a scalloped edged border for the "You're Too Sweet" design that you can also cut out and use if you'd like to.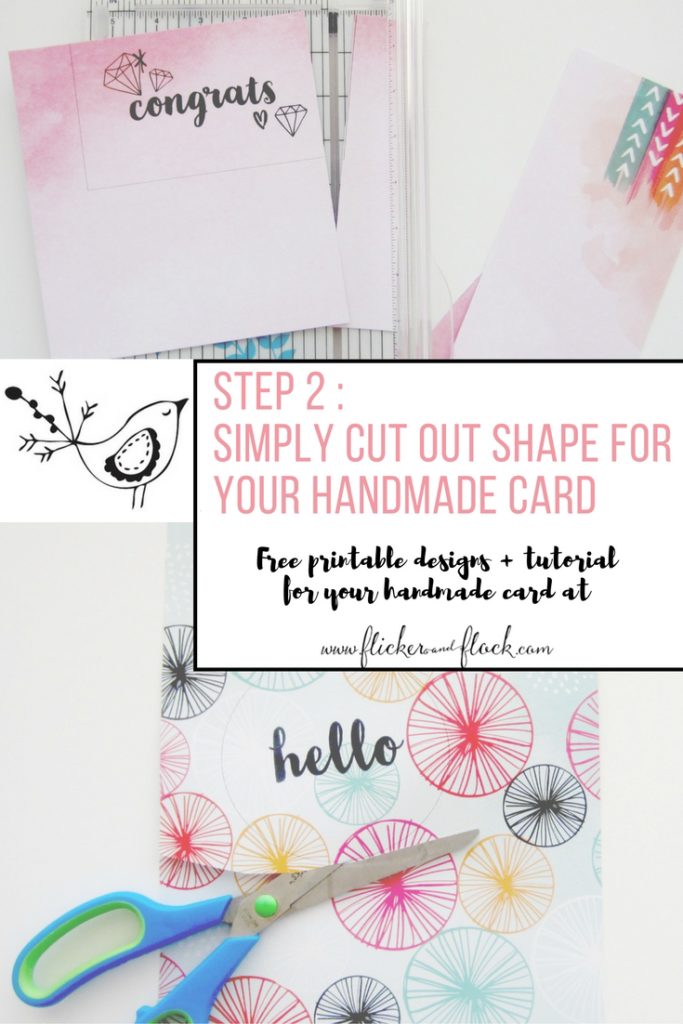 Step 3:
Glue your cut-out shape onto a blank card. You have total creative license to glue it on an angle or in the corner of the card, or whatever YOU think looks best. Remember that this is your handmade card that you're lovingly creating for someone else, and the beauty of it is in the uniqueness you give it.
While Step 1-3 shouldn't take long to complete, all I ask is that you do every step with care + love + thoughtfulness, as those are the elements that will give your beautiful card the x-factor. Spend as long as you like lovingly adding embellishments (like a washi tape border or diamante stickers) and penning a well-thought-out message about why they're so special to you too!
So that's it! I hope by now you're convinced that Handmade Cards rock! They are often so easy to create, yet so special. You don't have to be a perfectionist with watercolours or collage or handlettering. The beauty is in the imperfection, and as these free designs show, sometimes simple is best.
In my mind, "handmade" is something we should all do more often, so get creating + start making smiles! x