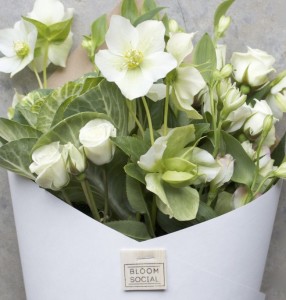 Fresh cut flowers rock my world.
They complete a dinner party table, dress a mantel or brighten the kitchen. Usually, on an occasion when something-special is called for, I'll quickly duck out our sliding doors with the kitchen scissors to snip whatever blooms I can find in our semi-unkempt garden. As you can imagine, the results are hit and miss.
In my attempt to avoid future floral disasters, I've tried local florists, but find the bunches are always so expensive and often too bright and more "hospital" style than "hot". I've tried selecting random collections from the supermarket, but can never arrange them to look decent when I get home.
My flower-arranging-prayers were answered when I made one of my all-time favourite Flock Finds ever – Bloom Social. I chanced upon this amazing little business when I was flicking through a home mag over a morning coffee, and stopped to read and admire one of the houses that was featured on its pages. The lady behind the look was Mel Holt. I simply loved Mel's style, I loved her choices + pieces, and I particularly loved all of her perfectly chosen + arranged fresh flowers throughout her house. My envy turned to delight when I read that these pretty posies were from her business, Bloom Social – an Auckland-wide flower delivery service fresh from the markets. All the hard work is now done for me!
According to her website, Bloom Social aims to create "that element of surprise, personalised service from start to finish, [and] the "freshly picked from the garden" look that is not only a special gesture but has a perfect place in your home." Mel selects the day's best looking blooms from the market in the morning, posts a photo of that day's stunning bouquet by 10am, then you simply view and order if you love it (which you absolutely will) and it will be hand delivered to you later that day. If you're a bit slow on the uptake, you can just trust her judgement and pre-order for the following day's blooms so that you don't have to keep an eye on your inbox for the day's pic. Given there is only a limited number of bouquets available to avoid wastage, this option is great if you don't want to miss out.
There are so many reasons why I love Bloom Social…
Foolproof – looks amazing when simply unwrapped and put straight into a vase, or you can easily break up the bunch and use a collection of glass jam jars to pop the flowers into (I love doing this if I'm having a dinner party, as can spread out the flowers all over the place). I've shared a pic from Mel's other baby which shows this arrangement in action – yes, this amazing lady is also an All The Frills event stylist.
Value for money – around $45 for a generous + stunning hand-delivered bunch.
Modern on-trend blooms, with modern eco-friendly wrapping.
So, so, so easy – once the blooms have been selected by Mel in the morning, place your order online, collect the flowers from your doorstep, pour water into a vase, and keep them fresh + lovely for days + days!
*This is a 'Flock Finds' post which means it contains products / businesses / services that I love / buy / use obsessively + think you'll love too. These posts are in no way paid for, and all opinions expressed are solely my own. Think of the 'Flock Finds' section as a carefully curated shopping guide from Flicker & Flock. For more information contact me here.*