Some mummies just totally blow my mind with how much they seem to fit into a day.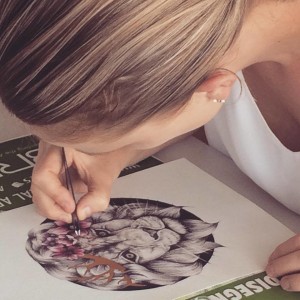 When my beautiful girlfriend told me she was going to take her drawing artistry more seriously, I was utterly excited for her. I had seen the incredibly amazing mural she did for her newborn son Rocco's room, and I couldn't wait to see what else she had in that mind of hers.
Somehow – in between her fulltime job + being mummy to two pre-schoolers + drumming in a band + always looking impeccable – she has found time to realise this dream, and the prints she has done to date are stunning. All are 100% her own handdrawn work and sold in very limited print runs, so you can be sure you'll be hanging something unique and special on your walls. If you like whimsical, interesting, dreamy, fantastical themes with a jungle vibe, then you will absolutely love her style. These original prints could adorn any room in your home or office – from your little explorer's bedroom to a wow statement in your hallway to a trendy addition to a corporate reception area.
Aptly named Rocco's Room, you can view prints + contact her via her Facebook page here, as well as stay up-to-date on the next market she'll be attending so you can meet + buy from this Auckland artist in person. Definitely a rising superstar to watch!
*This is a 'Flock Finds' post which means it contains products / businesses / services that I love / buy / use obsessively + think you'll love too. These posts are in no way paid for, and all opinions expressed are solely my own. Think of the 'Flock Finds' section as a carefully curated shopping guide from Flicker & Flock. For more information contact me here.*