Easter is always a generous time of year. We get a four day holiday, more chocolate than we know what to do with, plus it's the perfect excuse to make pretty bits and pieces like these decorative Easter eggs and the easy make-it-yourself Easter basket I'm about to show you. This year I've also decided to craft an Easter egg hunt for my 2 + 4 year old and their 3 year old cousin – I figure they're old enough now to enjoy it, and it's a fun way to stretch out Easter Sunday, while also helping them to burn off some sugar as they run between clues! I've shared my 10-part Easter egg hunt so that you can use it too if you'd like!
What you'll need for your Easter basket
Card or paper in the colour and style of your choosing (12″ x 12″ is the size I used, but A4 is fine)
Scissors
Glue
Masking tape or washi
Stapler
Optional extras you might like to use for decorations, like coloured pens + pencils, stickers, pretty tape, tissue paper, cellophane etc.
How to make your Easter basket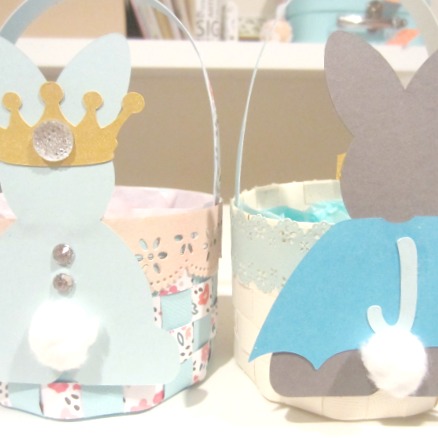 There are so many styles of DIY Easter baskets floating around Pinterest and other craft sites, but I couldn't go past the traditional woven style. I used this FREE basket template + step-by-step tutorial from Craftsy to make my baskets. They were simple to make and looked soooooo pretty once I was done. They're also really sturdy so won't fall apart once those Easter eggs start piling in! You can use the same paper for the basket base + strips or two different styles to create a checkered look, I tried both options and loved them either way.
I kept my basket decorations simple, using patterned tape around the top rim of each basket. I then stuck a paper bunny onto each basket – a superhero one for the boys and a princess one for the girls. I used cotton balls for the fluffy tails + diamante stickers for the princess crowns. Your kids will love adding their own embellishments no doubt too!
What you'll need for you Easter egg scavenger hunt
Paper or card to write clues on
Little chocolate Easter eggs for hiding
Easter basket or bag for each child participating
Scavenger hunt clues
You can use these clues verbatim if you have the same hiding places in your house as us, otherwise use the ones that apply or adapt them to suit your scavenger hunt. Remember, you will need to hand them the first clue to uncover the first hiding place, then each clue after that should be with the treasure aka Easter eggs. My clues are designed for my pre-schoolers, so you may like to make the clues trickier for older children!
For your first Easter chocolate treat, look in the drawer with the plastic plates you use to eat. [Answer: in the kids' drawer in the kitchen with their plates + cups]
You might find some more treats, in the place where the baby dollies sleep. [Answer: buried under the toy dolls in the toy crib]
Hmmmmm, do you think you need some more? Check under the bed where our guests snore. [Answer: under the bed in our spare room]
It's now time to look, in the place where you find your story books. [Answer: under the coffee table that has some story books on the shelf above]
Seeing as you're all the way up here, maybe you should check Daddy's work chair? [Answer: sitting on the chair that Daddy uses in our study]
Well done kids, you're doing well so far! There's more surprises inside the pink car. [Answer: in the storage area under the seat of the pink ride-on toy car]
It's now time to go carefully but fast, and look in the drawer in the place where you have a bath. [Answer: with the face cloths, in the drawer in the bathroom]
I know who might be hiding some more! They don't want to share, but look in the princess place with the teddy bears! [Answer: under the teddy bears sitting in the toy area]
Now you should go as quiet as a mouse, and look inside the tent with the miniature house. [Answer: inside the dolls house in the play tent]
This is your last clue! It has been so fun playing with you! There's a final gift from the Easter bunny for you to see, it's hiding in a drawer near the TV. [Answer: in the coffee table drawer by the TV]
I hope you enjoy your Easter long weekend! x